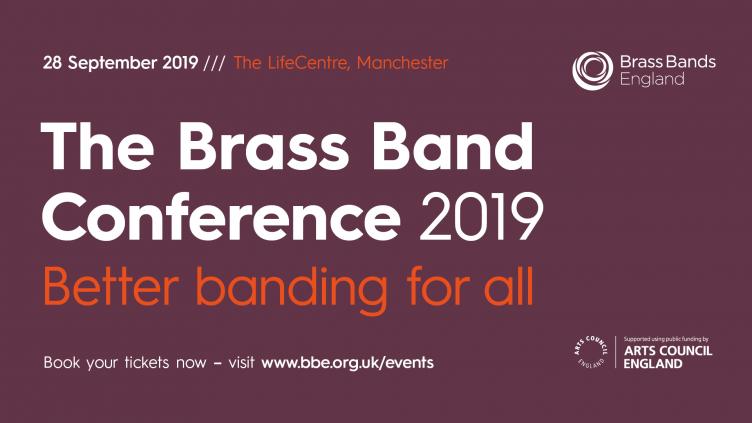 On Saturday 28th September Brass Bands England (BBE) will present The Brass Band Conference 2019. The conference, continuing on BBE's theme of 'Better Banding for All' will present a diverse range of speakers, workshops, performances and awards for everyone in banding. This conference is aimed at anybody at any level with any involvement in banding.
BBE's AGM will be held in the morning, followed by the opening of conference activities with main speaker, higher acclaimed composer Edward Gregson. Following this delegates will have a choice of break-out workshops to choose from delivered by a mixture of BBE staff and industry experts. These sessions cover Safeguarding, Copyright, Fundraising, Diversity and Inclusion, Marketing and Mental Health with representatives from PRS, Sheffield University, IVE and Arts Council England all leading sessions. 
The afternoon session starts with a lively panel discussion, chaired by BBE's Chief Executive Office Kenneth Crookston, on this year's 'Big Question' - What is the purpose of Brass Band Contests? BBE look forward to welcoming a diverse range of representatives from across the banding community to be part of the debate. Confirmed panellists will be announced in the coming weeks.
After another opportunity to take part in one of BBE's selection of breakout workshops, the day will come to a close with a wrap-up session and awards ceremony.  
BBE is launching a number of new awards to recognise those individuals and organisations in the banding world who have made an exceptional contribution to brass banding.  Nominations can be made for the following awards by midnight on 16th August 2019:
The BBE Social Impact Award

The BBE Innovation Award

The BBE Lifetime Achievement Award
Visit www.bbe.org.uk/what-we-do and click on 'Brass Band Conference Awards' for more information about the awards and how to nominate someone.
The Brass Band Conference 2019 will take place at The Life Centre in Manchester on Saturday 28th September 2019. Tickets are available to purchase from Brass Band England's website - www.bbe.org.uk/events. Tickets including lunch will cost £15 for members (£20 for non members) and will include a delegates pack and programme.