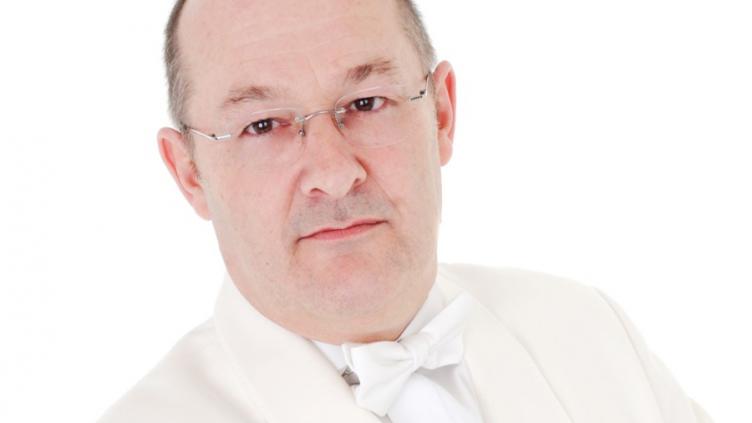 Derwent Brass are having a Grand Farewell Concert on Saturday 15 th September for their out going MD Keith Leonard. Derwent will be performing two new works written specially for the night from Derwent's Contemporary Music Associate Paul McGhee and local composer and
great friend of the band Mathew Eden. 
First up is Baroness Oterim Whispers a Fond Adieu, Paul McGhee. This tells the story of Baroness Oterim, who for forty years has travelled throughout Europe – never forgetting her roots under the Mediterranean Sea. Her heart fills with love and pride at the friendships made, great times shared and foundations laid, sustained and maintained whilst on her adventures. Whilst pride will always flow through her as each memory is recalled, her longing for the open road and new adventures cannot be quelled. With a gentle sigh, a smile and a tear, Baroness Oterim Whispers a Fond Adieu.
Paul McGhee said "Since first meeting Keith as a teenage tear-a-way at Youth Brass 2000 (me, not Keith) - I was struck instantly by his passion for music and dedication to his family and those close to him. Always there to offer advice and guidance when the path chosen wasn't always the correct one, his friendship has always been something that I valued and held dear. What he has created at Derwent Brass is truly fantastic and his talent, effort and class (both as a musician and human being) is reflected perfectly through this ensemble. Sadly, nothing lasts forever - but Keith can always look back with pride and fondness at the legacy that he has created. I hope all will enjoy my little tribute to the man. Sometimes words aren't enough when trying to express yourself (for me that is certainly true). I hope Baroness Oterim can portray more eloquently than my words ever could what your friendship and support means to me. Best wishes dear friend, and thank you for being you."
Next is EMERITUS  by Mathew Eden who said about the piece "I was delighted to have the opportunity to work once again with Derwent Brass, this time to mark the occasion of Musical Director Keith Leonard's retirement from the band after 25 years at the helm. When approached about composing a piece in dedication to Keith, I knew that the music needed to be celebratory and uplifting, but it also seemed appropriate to compose something musically challenging for the band, to highlight the tremendous progress that Derwent Brass has made over the years of Keith's tenure. The piece itself, entitled Emeritus, contrasts rhythmically charged and occasionally angular writing with a central section that is more melodic in style. I was also keen to speak with Keith about including references to music that is personal to him in the score, so many of the themes in the work originate from Keith's own musical memories. It is always a pleasure to collaborate with Derwent Brass, and I was lucky enough to be able to work with the band personally on the piece's rehearsal. I would like to wish Keith all the best as he moves into the next chapter in his life, and also look forward to seeing Derwent Brass continue to go from strength to strength under their new leadership."
The concert is on Saturday 15th September 2018 at Landau Forte College Theatre, Fox Street, Derby, DE1 2LF
Online: www.priorbooking.com/e/a-grand-finale
Call to reserve: 01773 384 121 (select option 1)
Email to reserve: sales@derwentbrass.co.uk
Visit: Foulds Music, 39-40 Iron Gate, Derby, DE1 3GA