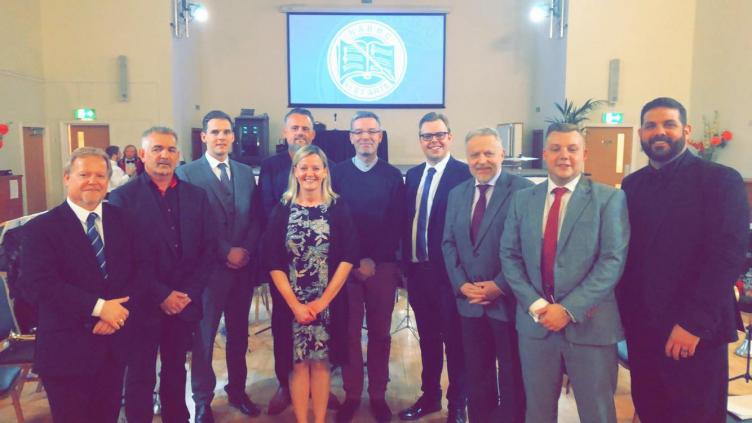 Brass Bands England (BBE) and the National Association of Brass Band Conductors (NABBC) are delighted to announce details of a new partnership that will see the two bodies working together to develop educational opportunities for conductors across the country.
In addition to BBE providing administrative support for the NABBC, the arrangement will mean that all members of the NABBC will receive individual membership of BBE, which will be included in the cost of their existing membership. These services will include free DBS checks and access to BBE's insurance deals, in addition to advice on a range of topics such as funding. NABBC members will see the renewal of their membership move to the BBE website at www.bbe.org.uk in the coming weeks. This partnership will see an administrative streamlining of the NABBC and allow the organisation to focus on developing new services and activities for its current members and playing a greater role in developing the next generation of conductors for the brass band community.
Russell Gray, President of the NABBC, commented: "When I started working with the NABBC I wanted my tenure to be marked by a shift to make the body more relevant to the entire brass band community by supporting developing conductors. This new partnership makes this a reality by modernising our administrative processes and being able to support the kind of programmes that can make a real difference. The first of these new initiatives will see see BBE and the NABBC develop a new set of workshops aimed at developing the conducting skills of those new to leading bands or for those thinking about 'taking the plunge'. The courses will focus on band training in the lower sections whilst also giving participants the opportunity to work with some of the finest bands in country in a brass band equivalent of a Ferrari track day!" 
BBE Chief Executive Officer, Kenneth Crookston, added: "This partnership marks the start of a key element in BBE's development plan. Improving the training of bands through developing the skills of the people directing them is absolutely vital in our quest to see England's bands again leading the world and we are very excited about the possibilities that our new relationship with the NABBC can bring in the years ahead." 
The workshops will form a new strand of BBE's development programme, sitting alongside such initiatives as the artistic direction, player development and BandSafe sessions that the body has already unveiled.